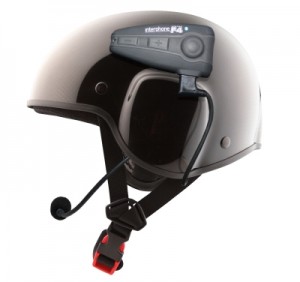 A basic helmet for power-paragliding with minimal weight and a high level of noise elimination. The use of the best quality glass, aramid and carbon fibres is the basis for attaining the lowest weight and regidity. The headphones with gel ear seals for noise protection are adjustable. The inner lining is both removable and washable.
Interphone F4 is a multifunction intercom which provides:
– communication with another Interphone within a 500m radius
- communication with another PMR walkie-talkie using Tribe placed in your pocket. Interphone F4 and Tribe connection via Bluetooth.
- F4 offers a hands-free option of connection between mobile phones, alert by ringing for incoming phone call, voice dialling and answering
- wireless hi-fi stereo connection via Bluetooth
- Full-duplex communication with DSP processor and wind-shield
Interphone F4 is interchangeable and it could be used to another helmet (motorbiker, ski helmet…) Interphone F4 resists water. A battery charger and protective cover are delivered with the helmet.
Interphone Tribe is voice -activated and hands-free walkie-talkie necessary for comunication with another PMR walkie-talkie.
- coverage up to 6 km
- 8 channels, operating frequency 446 Mhz
- VOX - 3 levels
Standard design: white, black, blue, metallic gray
Designs made to order: carbon
Size:
XS – for head circumference 53 – 55 cm
S – for head circumference 56 – 58 cm
M – for head circumference 57 – 59 cm
L – for head circumference 58 – 60 cm
XL – for head circumference 59 – 62 cm
XXL – for head circumference 61 – 64 cm
Weight 490 g ± 50 g according to variant and size